Royal Hotel
Guests can enjoy a range of promotions throughout the week and private bookings can be catered for. Our food menus take guests on a culinary world tour with international dishes inspired from Ireland and America, Asia and beyond. Ingredients are sourced both locally and from the emerald isle to ensure that tastes are authentic.
Bar Food Menu
(Served 12-8pm daily)
Early Bird Menu
Delighted to launch our new Early Bird Menu being served 3-6pm Monday-Friday.
Cocktails to Go!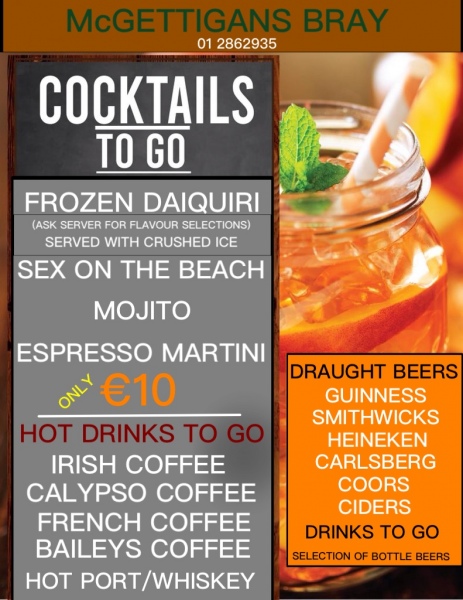 Opening Hours of McGettigans
McGettigans is open daily and the following times apply:
Mon – Thur: 12noon till 1130pm
Sat: 12noon till 00:30am
Sun: 12noon till 11pm
**Bar menu served daily from 12noon to 9pm
Breakfast Times
Monday to Friday - 6.30am to 10am
Saturday-Sunday - 8am - 11am
Reservations for Breakfast and Dinner
Please note that you will need to book a table for Breakfast and Dinner - to secure a table for Dinner or Breakfast you should contact hotel on royal@royalhotel.ie or call us on 01 2862935
Contact Details
Email: sales@royalhotel.ie
Telephone: +353 1 286 2935