Royal Hotel
Merrill Leisure Club
Now Under New Management
Michael Waters: Gym Manager at The Merrill Leisure Club & Spa with 15+ years of experience. Committed to creating a healthy, welcoming community. Passionate about empowering others to reach their fitness goals.
Leading the team at The Merrill Leisure Club to new heights. Dedicated to creating a positive gym atmosphere where everyone feels welcome.
The Merrill Leisure Club is located in the Royal Hotel right in the heart of Bray. The Merrill Leisure Club offers members and hotel guests the opportunity to work out in our fully equipped gym with over 40 pieces of cardiovascular and resistance training equipment, swim in our 14 metre deck level swimming pool or relax and unwind in our sauna, steam room or jacuzzi.
Why join the Merrill Leisure Club..
Our team of experienced and enthusiastic fitness staff will help guide you on your journey to a fitter, healthier and happier you. Whether you are an experienced gym user or a total beginner we can help you achieve the results you have been looking for. At The Merrill Leisure Club we pride ourselves on being different to other health clubs and gyms. We are passionate about helping our members reach their fitness goals and our fitness team are always available to offer advice, guidance and ongoing support.
Exercising should not be a chore and just 1 hour of exercise equates to just 4% of your day. We believe that everyone has to make the time to change their lifestyles for the better and we designed our "Transform Programme" to help new members on the path to a healthier, fitter and happier life.
We have a wide range of 6 and 12 month upfront membership options available. We also offer a direct debit option for all 12 month contracts. Please call our leisure club on (01)2761206 for more information on all of our membership options.
Location
The Merrill Leisure Club is located at the rear of the Royal Hotel on Bray Main Street and only a few minutes walk from Bray Sea Front.
Merrill Leisure Club Opening Hours
Monday to Friday 6.30am to 9pm
Saturday, Sunday and Bank Holidays 8.00am to 6pm
Children's Swimming Pool Hours
Monday to Friday 6.30am to 7pm
Saturday, Sunday and Bank Holidays 8.00am to 6.00pm
Children's swimming hours may be extended during school holidays.
Fitness Class Timetable
If you want to keep fit and be motivated by our expert fitness team then join in one of our high energy fitness classes. With over 20 classes per week free for members there is a class to suit all fitness levels. Our classes include Spinning, Boxercise, Aqua Aerobics, Kettlebells and more. Hotel guests are also welcome to book classes at reception.
View our Timetable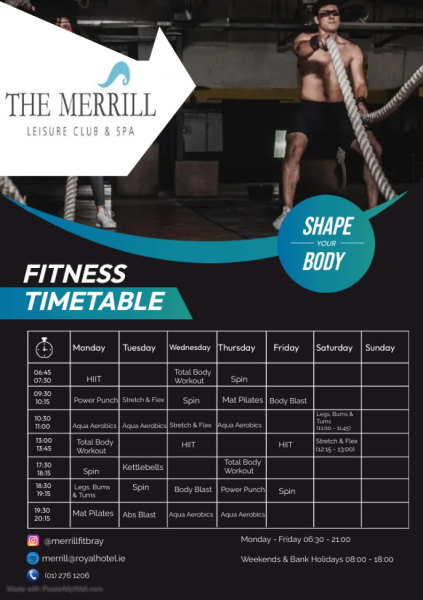 Call us to book your classes on (01) 2761206 or email us at merrill@royalhotel.ie
Merrill Treatment Rooms (currently Closed)
Schedule some time to relax and recharge your body and mind during your stay at Royal Hotel. Book some 'me time' at Merrill Treatment Rooms and select from our range of treatments which are all personalised to your individual needs. You will leave feeling recharged, refreshed and revitalised.
Treatments are available by appointment only and the Merrill Treatment Rooms are open between 10 am and 6 pm Thursday to Sunday. Appointments on Mondays, Tuesdays and Wednesdays are subject to availability and booking at least 24 hours in advance.
Merrill's Kids Camp - (currently Closed)
Our Merrill Multi Activity Camps are open during school holidays – Activities include the following (Pool fun & games, Team games, soccer, sports zone, dancing, arts 'n' crafts, cake baking, dodgeball, face painting, DVD's, video games and more)
Merrill's kids club opens daily between 10 am and 2 pm with supervised kids activities in the evenings between 6pm and 9 pm. The day camp and evening activities are Complimentary for all hotel guests. (booking essential) Open to all children ages 4 to 12 years.
Please note a minimum of three children are required for the evening activities to go ahead.